1995 Retrospective
Joseph Mallia , "25 years later, photographer to meet his anguished subject," Boston Sunday Herald , 23 April 1995, Pg. 12.
Where are images that haunt a nation.
And they sometimes ghost the photographer and his subject, too.
Twenty-five years ago at Kent State University, John Paul Filo lifted his camera and took a picture of a 14-year-old girl.
She was screaming in anguish over the body of an anti-Vietnam War protester, shot dead moments earlier by an Ohio National Guard soldier.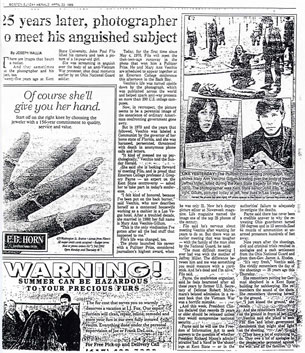 Today, for the first time since May 4, 1970, Filo will meet the then-teen-age runaway in the photo that won him a Pulitzer Prize. He and Mary Ann Vecchio are scheduled to appear together at an Emerson College conference this afternoon in the Back Bay.
Vecchio's life was turned upside down by the photograph, which was published across the world and helped spark anti-war protests on more than 200 U.S. college campuses.
Now, in retrospect, the picture seems to be a perennial image of the conscience of ordinary Americans confronting government gone awry.
But in 1970 and the years that followed, Vecchio was labeled a Communist by the governor of her home state of Florida, and she was harassed, persecuted, threatened with death in anonymous phone calls and letters.
"It kind of messed me up psychologically," Vecchio told the Sunday Herald.
She said she is looking forward to meeting Filo, and is proud that Emerson College professor J. Gregory Payne - an expert on the Kent State controversy - asked her to take part in today's conference.
"I felt kind of honored, because I've been put on the back burner," said Vecchio, who now describes herself as a contented housewife working as a cashier in a Las Vegas hotel. After a troubled decade, she married in 1980; her full name is Mary Ann Vecchio Gillum.
"This is the only vindication I've gotten after all the bad stuff that happened to me."
Filo's life was changed, too.
The photo launched his career with a Pulitzer Prize, considered journalism's highest award, when he was only 21. Now he's deputy picture editor at Newsweek magazine. Life magazine named the image one of the top 25 photos of the century.
Filo said he's nervous about meeting Vecchio after wanting for years to do so. But there was an earlier meeting that was tougher - with the family of the man shot by the National Guard, he said.
"The most difficult meeting I ever had was with the mother of Jeffrey Miller. The difference between him and me was something you could measure with a yardstick. And he's dead and I'm alive," Filo said.
Payne, the conference organizer, said he feels heartened after all these years by former U.S. Secretary of Defense Robert McNamara's belated admission in a recent book that the Vietnam War was a horrific mistake.
And this week, President Clinton declared that records 25 years or older should be released unless they would compromise national security.
Payne said he will use the Freedom of Information Act to seek answers to the question of whether President Richard Nixon's administration had a hand in the shootings at Kent State - or in the authorities' failure to adequately investigate the deaths.
Payne said there has never been a credible answer to why the retreating Ohio guardsmen turned 180 degrees and in 13 seconds fired 64 rounds of ammunition at unarmed protesters hundreds of feet away.
Nine years after the shootings, civil and criminal trials resulted in apologies and a cash settlement from the Ohio National Guard and from then-Gov. James A. Rhodes.
"It's very fresh," Vecchio said. She vividly remembers the day of the shootings - 25 years ago this Thursday.
She remembers putting her German shepherd in a Kent State building for safekeeping. She remembers the sound of the shots. She remembers throwing herself to the ground.
"I just kissed the ground," she recalls.
And she remembers Miller lying on the ground in front of her.
Vecchio said she plans to seek FBI files and other government documents that might shed light on the shooting.
"They have a lot of explaining to do. They owe a lot of apologies to the people who protested against the war, and all the families."