Relavant Media
From the collection of Dr. J. Gregory Payne.
Videos (may take some time to download depending on your connection)
"Cambodia Incursion" - April 30, 1970, President Richard Nixon announces to the nation that an "incursion" into Cambodia has been launched by the United States combat forces.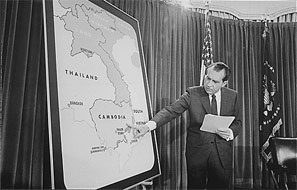 Download all four parts: 1 (4.6MB), 2 (5.04MB), 3 (5.14 MB), 4 (5 MB); text of speech
NBC News coverage - May 4, 1970, initial coverage of the shootings at Kent.
Download all three parts: 1 (4.5MB), peaceful protests in Connecticut and around the country 2 (6.17MB), and the National Guard still photograph released to the press 3 (1.75MB).
WEWS local broadcast - coverage of the shootings (2.3MB), Student Congress actions (1.11MB)
CBS Evening News broadcast - Clip of 25 year anniversary with Mary Ann Vecchio returning to Kent State (530KB)
VH1 Behind the Music - segment from the program on the shootings at Kent State (4.8MB)
NBC's docudrama Kent State - Clip of the shootings from the movie (3.8MB)
Kent State: A Requiem - clip from a performance (2.79MB)
Audio
American Forces Vietnam Network (AFVN) Broadcast - radio coverage of the shootings. 46 sec (504KB wav file)
Richard Nixon comments on protestors - "You know, you see these bums, you know, blowing up the campuses. Listen: the boys that are on the college campuses today are the luckiest people in the world." 9 sec (406KB wav file)
13 Seconds - Audio clip of the 61 bullets fired in thirteen seconds. 13 sec (542KB wav file)
Articles
Kent Stater, October 16, 1969 - Allison Krause photographed protesting the war; personal copy of the paper she sent home to her father with the words "Can you find me?" in a wide angle shot and "There I am again" in a close-up (jpg image)
Memorial article from the Akron Beacon Journal 2 May 2000 (pdf format)
Labor History, Oral History and May 4 by Staughton Lynd: booklet 5.9MB pdf, text-only
Share your memories of May, 1970 Oral History Project Brochure 1, 2 (pdf format)
J. Gregory Payne, "The Anniversary of the Kent State Killings" Chronicle of Higher Education (letter), June 2, 1995, Vol. 41, Issue 38 (html)
more coming soon.