kent State: A Requiem
by J. Gregory Payne, Ph.D.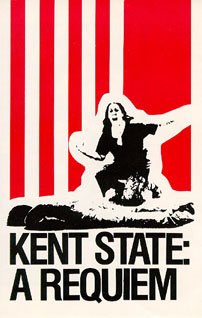 Kent State: A Requiem written by J. Gregory Payne, is a dramatic and factual examination of the events of May 4 from the perspective of Mrs. Florence Schroeder, whose son Bill was one of the 4 students killed. The play was first performed as a Readers Theatre production as Kent State: A Wake at Yale University and Occidental College in 1976. This piece formed the roots for Kent State: A Requiem which toured at various colleges across the nation in 1980. It was performed at Kent State in 1990 and in 1995 as part of the commemoration program.
Video - clip from a performance (2.79MB)
See images of Kent State: A Requiem in the photo collection.
under construction, more on the way.